Rock Singing Complete
Build power, range, and endurance in your voice with a proven step-by-step method for learning to sing all styles of rock.
Stop Losing Your Voice.
Start Training It Instead.
Do you know the techniques essential to train your voice?
You spend more time sifting through vocal exercises than doing them.
You lack endurance, power, and range even after years of practice.
You're concerned about vocal fatigue, tension and strain when you sing.
Rock singing should be
effortless.
We show you how to do it right.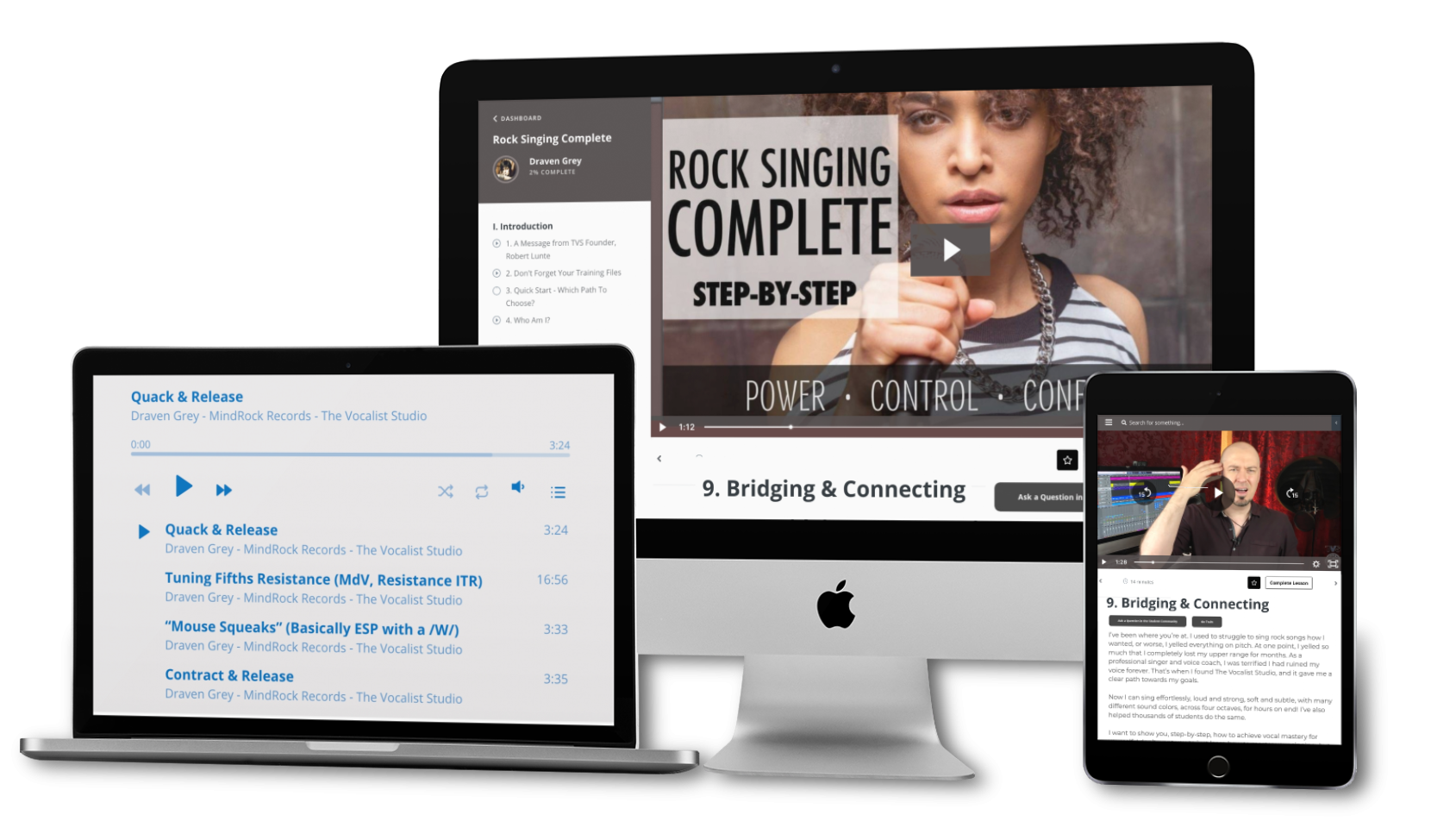 Confidence in Your Voice
Targeted, time-tested, and proven rock vocal techniques
Over 7,000 students enrolled from beginner to advanced
8+ hours of detailed instruction and demonstration
Over 95% of students notice immediate results
I've seen close to twenty paid singing courses that repeat the same things over and over again. But these courses actually tell you HOW, and most importantly, WHY you are doing the exercises. Everything is expertly and clearly explained.
— Marcos Santana
3 SIMPLE STEPS TO UNLEASH YOUR VOICE
Get Access
With a one-time purchase, get access to over 60 lecture videos with detailed instruction, targeted vocal workouts, and audio training routines.
Train Your Voice
Shape your sound rather than push for it. We'll help you master the simple and effective techniques designed for rock and metal vocals.
Sing with Confidence
Mastering your voice isn't difficult. You just need the right guide. Enroll in Rock Singing Complete and begin singing with confidence.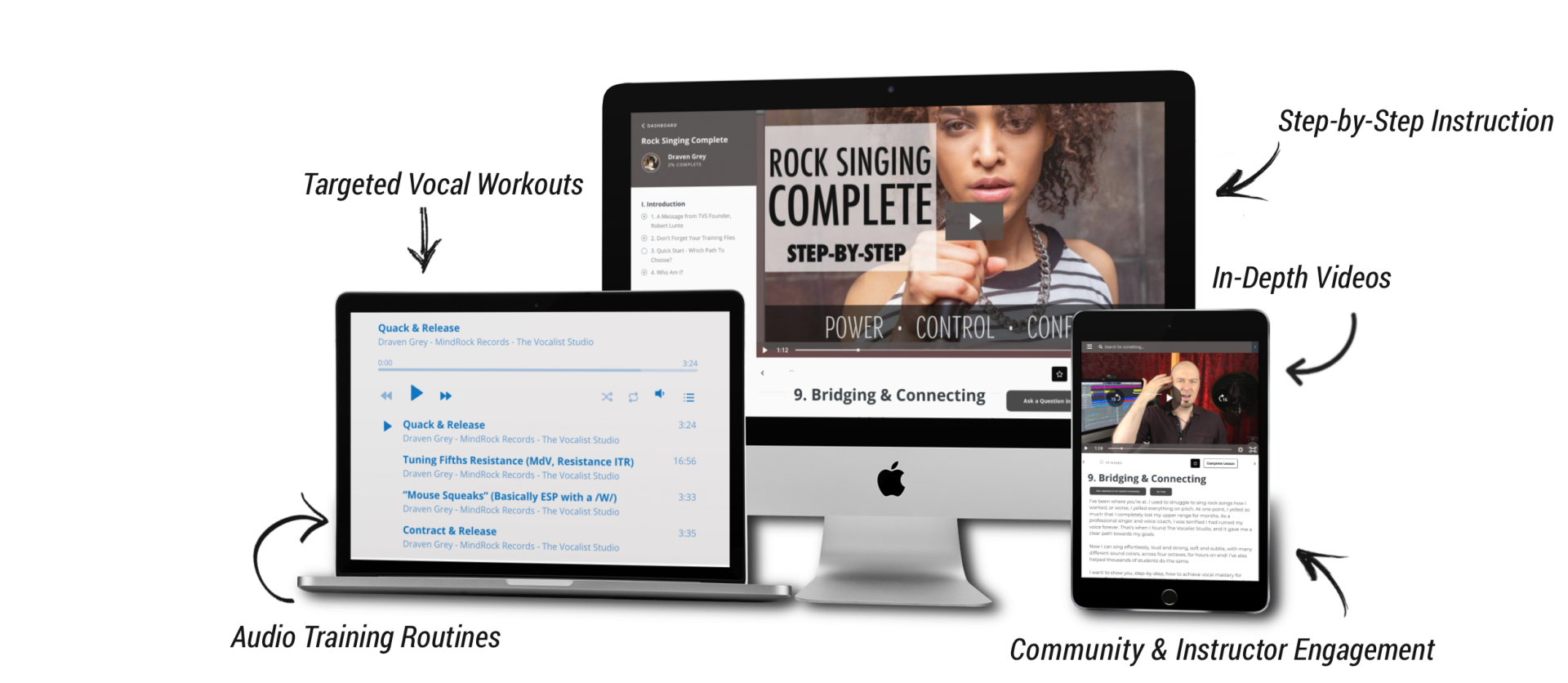 Effortless Singing
Eliminate the pain and fatigue associated with rock vocals. Learn to sing with power and endurance.
Shape Your Sound
Stop pushing to reach notes and start shaping and releasing into them instead.
Rock Vocal Technique
Use proven techniques to shape your voice and develop your own unique sound.
Breath Support
Understand the mechanics of proper breath support to relieve tension and amplify your voice.
Powerful Emotion
Develop a voice that captures and delivers the emotion of your song.
Command & Control
No more guesswork. Build coordination, strength, and power with time-tested rock vocal techniques.
Course Content
10 Sections • 83 Learning Units • 7h 15m total length
Course Overview

Quick Start Guide

Effortless Singing - A Journey
The Most Important Thing

Singing vs Speech

Choosing the Voice You Want

Why You Should Be Crying

Fach You Voice Type vs Range

One Voice

Bridging and Connecting

Why Warm Up?

The Best Warm Up
3. What Makes Singing Good vs Bad?
The Onset Package, Self-Diagnosis Checklist

Pitch - The Most Important Thing

Embouchure - Eat the Apple

Acoustics - Sound Colors and Acoustic Modes

Larynx Position - Shaping Your Throat

Compression - Stop Squeezing, Start Singing

Breath Support - Sigh, Don't Push

Visualization - Staying Aware
4. Shaping Your Sound Color
Physical Modes - Shaping the Vocal Tract

Vocal Modes - Combining Acoustic and Physical Modes

The Formant Triangle - Formant Tuning

Formant and Vocal Tract Tuning Across Multiple Bridges

Vowel Anchoring and Making Your Sound Consistent

Vowel Anchoring Exercise Overview

Exercise: Vowel Anchoring with MahNahLah

Exercise: Vowel Anchoring with PahTahGah
5. Incredible Breath Support
Extrinsic Anchoring - Don't Stand like That

Appoggio: Leaning for Volume

Never Run Out of Air

Exercise: Developing Proper Breathing
6. Diving Deeper Into Onsets - Where the Magic Happens
What Onsets Can Do for You

Track & Release

Pulse & Release

Wind & Release

Messa di Voce

Quack & Release

Dampen & Release

Attack & Release

Contract & Release

Acoustic Mode Onsets
7. Training Like an Athlete
Acoustic Mode Onsets

TA Isolation

Basic Training Routine

Tuning Fifths, Foundation Building Routine

Adjusting Your Training Routine to Your Needs

What Training Routine to Start With?
8. Focused Training Routines
Increasing Range

Building Power

Training for a Song
Thank You

The Performer's Endurance Toolkit

The Recording Toolkit

Be Taken Seriously, Showcase Yourself
This is one of the best courses on rock singing I have found over the years. Really well organized, concise material. Excellent technical explanations, and a great variety of approaches. Honest, thorough and clear delivery of the material.
KONSTANTINOS M.
All the exercises are very well explained. Made great progress from scratch. When asking a question you get a quick and comprehensive response from the instructor, which is great.
MARCELO REVOLLO
Draven Grey is an amazing vocal coach with a deep understanding of the voice and its anatomy. He teaches you how to really control and shape your voice and routines so that you get the exact sound, technicality, and stamina you want.
ANDREW COPE
Draven Grey
Draven Grey, founder of Rock Singing Lessons, has been singing and performing for over two decades. As a Rock Singing Coach, he covers the depths and challenges of rock & metal vocals. As a rock singer and TVS Certified Instructor, he has an exhaustive understanding of the rock voice and knows how to get students to sing with power and control.
He'll show you, step-by-step, how to achieve vocal mastery for yourself.
Sing with Power and Endurance.
Rock Singing Complete

FOR ONLY
$197
ONE-TIME PURCHASE | INSTANT ACCESS
Comprehensive step-by-step approach to rock singing

7+ hours of on-demand instructional videos

Detailed demonstration on how to practice each technique

Targeted vocal workouts to build power, range, and control

Full Lifetime Access

________

BONUS!

Audio training files to train along with on the go


Downloadable Course Notes

Performer's Endurance Bonus Lesson

Recording for Singers Bonus Lesson

Be Taken Seriously, Showcase Yourself Bonus Lesson

Practice routines and exercises to shape your own unique sound
30-Day Money Back Guarantee. 100% Customer Service.
Created with