Rock Singing 101
With this fundamentals of rock singing course, you will learn essential techniques to develop power, range, and endurance in your voice.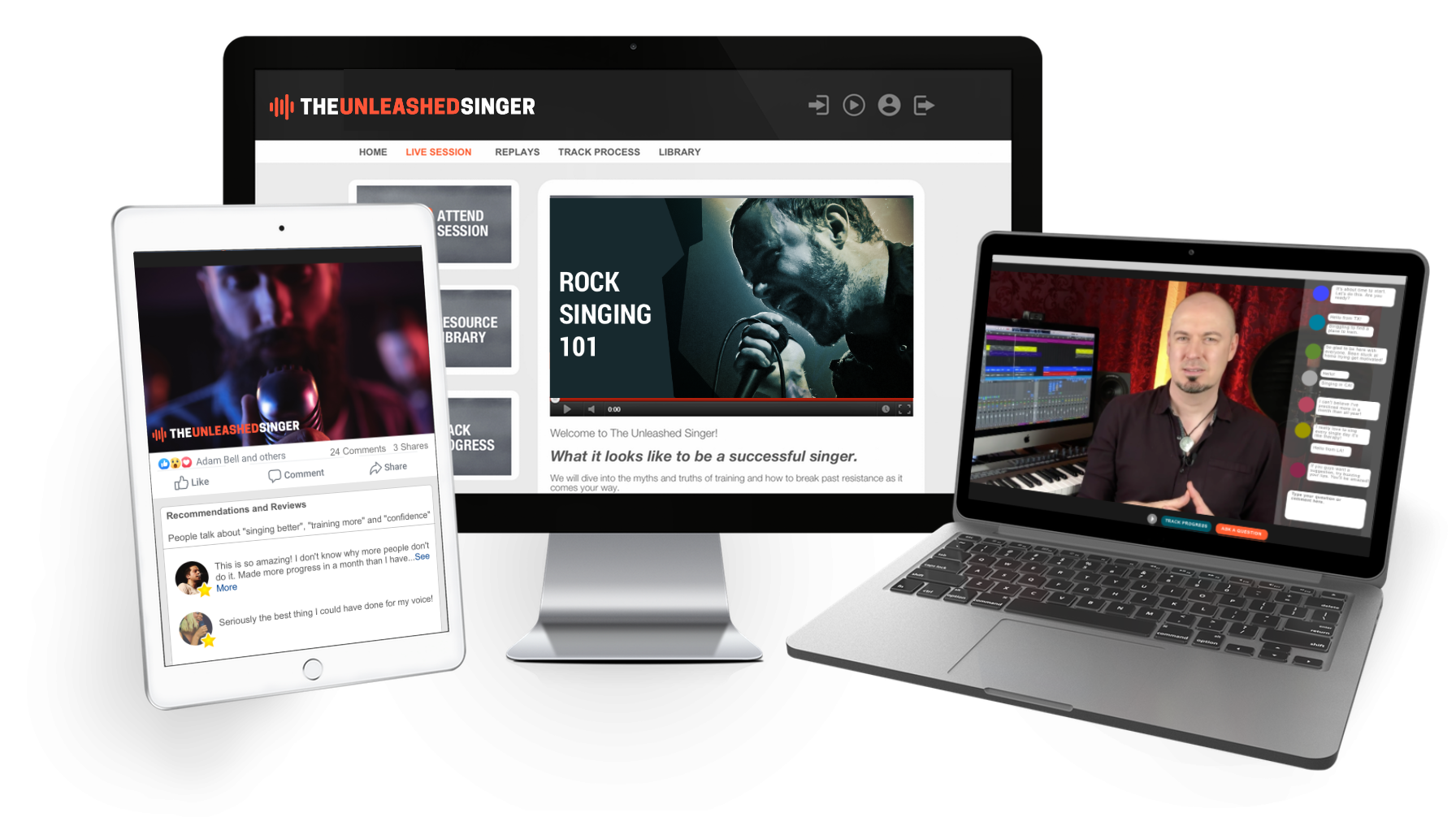 Confidence in Your Voice
Targeted, time-tested, and proven rock vocal techniques
20+ years experience teaching and singing rock
Over an hour of detailed instruction and demonstration
Over 95% of students notice immediate results
Rock singing should be
effortless.
We show you how to do it right.
Course Content
Learn the essentials of how to sing rock
Welcome

The Most Important Thing

Choosing the Voice You Want

Fach You Voice Type vs Range

How to Breathe
All the exercises are very well explained. Made great progress from scratch. When asking a question you get a quick and comprehensive response from the instructor, which is great.
MARCELO REVOLLO
This is one of the best courses on rock singing I have found over the years. Really well organized, concise material. Excellent technical explanations, and a great variety of approaches. Honest, thorough and clear delivery of the material.
KONSTANTINOS M.
I absolutely loved the course!! Super helpful and no bull! Draven is very visual and really helps you understand how to place your voice without hurting yourself!
FILIPE MARTINS
Draven Grey
Draven Grey, founder of Rock Singing Lessons, has been singing and performing for over two decades. As a Rock Singing Coach, he covers the depths and challenges of rock & metal vocals. As a rock singer and TVS Certified Instructor, he has an exhaustive understanding of the rock voice and knows how to get students to sing with power and control.
He'll show you, step-by-step, how to achieve vocal mastery for yourself.
Add control and power to your voice.
Rock Singing 101

FOR ONLY
$27
ONE-TIME PURCHASE | INSTANT ACCESS
Over 90 minutes on-demand instructional videos

Top techniques to add control and power to your voice

Exercises to make your voice consistent, rather than breaking, shouting, pulling, or reaching.

Understand breath support – the way Pavarotti taught it, and how it applies to rock singing.

Less push – more power. In these videos, we will show you how!

Audio training files to train along with on the go

30-Day Money Back Guarantee. 100% Customer Service.
Created with